I'm back from my relaxing South Carolina vacation. Sad. It was so nice and sunny and beautiful there. The creepy crawlies definitely enjoyed my stay. *scratch* I don't miss them, though.
Even though I was on vacation, I still managed to do some inventing in the kitchen!
I know what you're thinking... what did I do on a Sunday evening when I got the
itch
to make Chicken Marsala, but was in a state where they don't sell liquor on Sundays? I substituted like crazy, that's what!
Now this was a challenge to me. To start with, I'd never made chicken marsala before, plus I was trying to substitute the ingredient the dish is named for. Using my "foodie senses"
(those are similar to spidey senses, by the way
), I picked out a few ingredients that would make the dish my own, but still keep the main components of the original.
I added in roasted plum tomatoes with some olive oil, salt and pepper... those were pretty yummy. They were dangerously close to not even making it into the pan..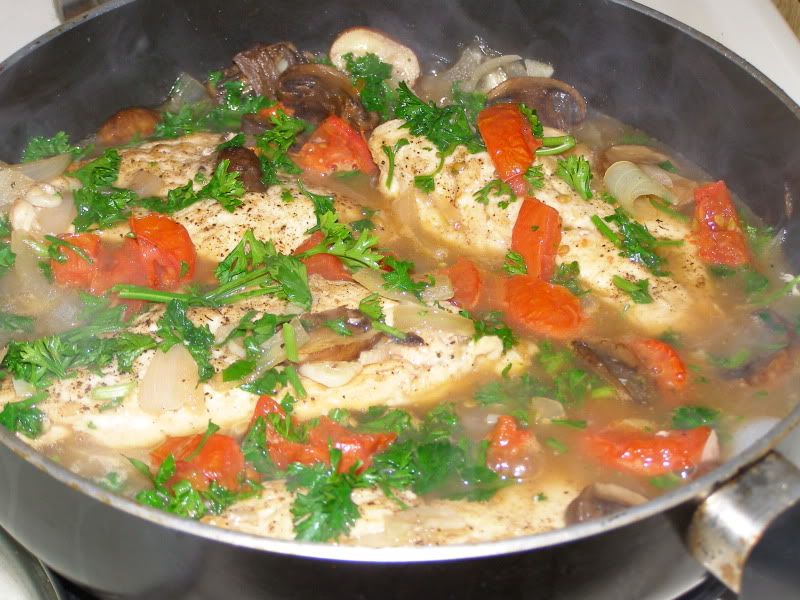 Kyle thought the dish was a hit! Perhaps it could have used a bit more salt.. hehe!
Chicken "Non" Marsala
8 baby bella mushrooms, sliced
1/2 sweet onion, sliced
2 large cloves garlic, diced
1/2 tablespoon butter
1 tablespoon olive oil
4 skinless chicken breasts, patted dry and seasoned with salt and pepper
Juice of 1/2 a lemon
1/2 cup white grape juice
1/2 cup water
1 tablespoon red wine vinegar
3 plum tomatoes, roasted and diced
1/3 cup fresh parsley, roughly chopped
Mix lemon juice, grape juice, water and vinegar in a bowl and set aside. Over medium heat, melt the butter in a large skillet. Add mushrooms and onion and saute until the onion just starts to turn clear. Add garlic and sautee another 30 seconds. Remove veggies and set aside. Add olive oil to the pan and turn the heat up to medium high. When oil is hot, add chicken breasts and sear about 3-5 minutes on each side or until a nice crust forms. Add juice mixture to pan, followed by the veggies. Cover and simmer about 10-15 minutes over medium heat. Add parsley and tomatoes, return the lid and simmer another 5 minutes. If you need to, you can thicken with cornstarch. Serve over pasta and topped with grated asiago cheese!