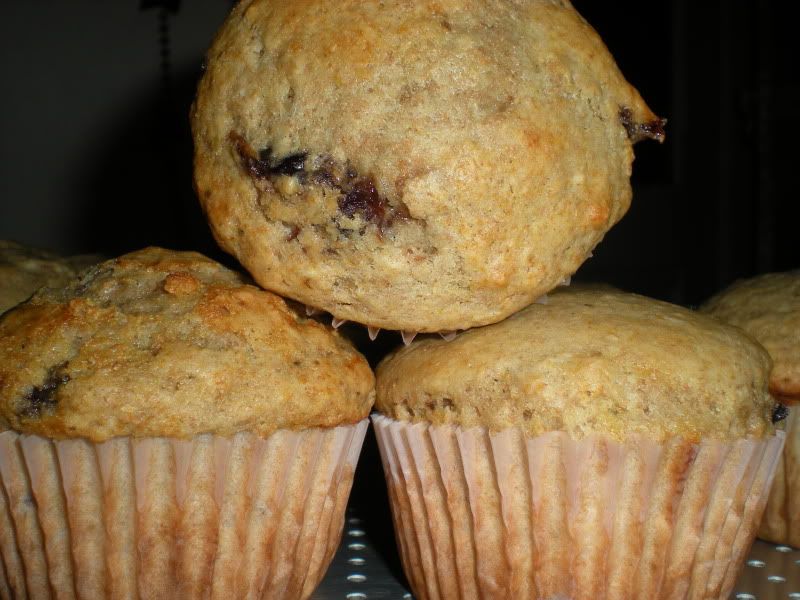 It's been a while since I've posted, I know. Things have been crazybusy! But I'm back with a unique breakfast muffin that I've been enjoying for several days. They're filling, delicious, and exotic! Plus I actually mixed this recipe by hand - unusual for me. I adapted the recipe a bit from one I had found using apricot preserves. All I had in the house was cherry jam (thanks to the discovery of an ethnic grocery store on one of my many road trips). I swapped ingredients and substituted some whole wheat flour for some of the all purpose flour and VOILA! Deliciousness!
Cherry Ginger Muffins
1 cup all purpose flour
1 cup whole wheat flour
1 1/2 teaspoons baking powder
1/2 teaspoon baking soda
1/4 teaspoon kosher salt
1 teaspoon ground ginger
1 cup buttermilk (1 tablespoon apple cider vinegar plus enough milk to equal one cup)
3 tablespoons canola oil
1 egg
1/3 cup cherry jam (or your favorite flavor of jam or preserves)
Preheat oven to 400 degrees. Line muffin pan with paper liners.
In a large bowl, combine flour, sugar, baking powder, baking soda, salt and ginger. In another bowl combine buttermilk, oil, egg and jam. Stir wet ingredients into flour mixture until just moistened. Fill the muffin liners most of the way, leaving enough room for the muffins to bake into their "tops". Bake 15-20 minutes or until a toothpick inserted comes out nice and clean.