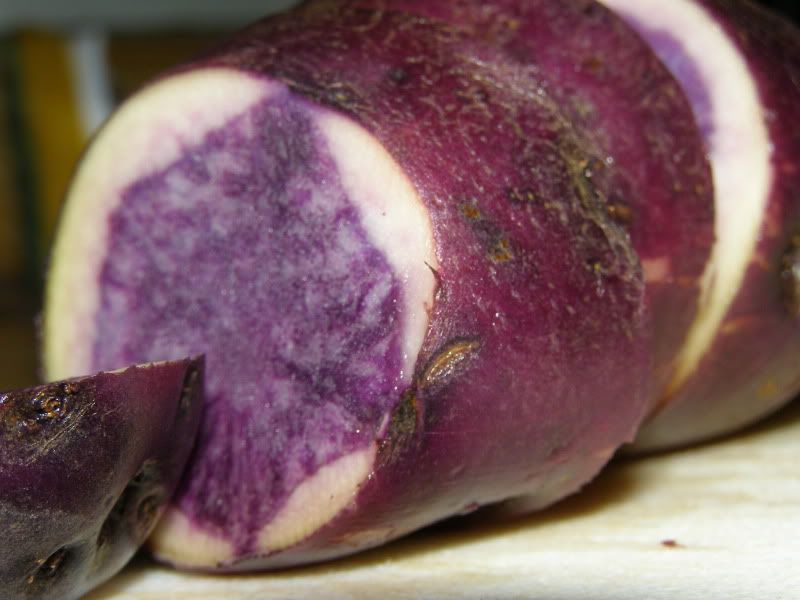 I said Mr Purple Potato Eater, what's your line?
He said eating purple potatoes, and it sure is fine
But that's not the reason that I came to land
I wanna get a job in a rock 'n roll band
Granted I changed the words around to fit my current purple passion, but I loved that song growing up! As many young girls do, I loved anything purple! It's only fitting that I'd love purple potatoes, too!
I discovered the beauties one afternoon while browsing in Kroger. While I'd heard of them, I'd never been able to partake in their purple wonderment. Until now. I snatched up a couple of those bad boys and hauled my expensive tastes up to the register. The kind woman there rang them up as baking potatoes, saving me $3 a pound in the process! Bless her heart! I was filled with happiness!
The happiness only grew as I arrived home, chopped up a potato and roasted it to perfection. Maybe they don't taste outrageously different, but they sure are gorgeous!
Roasted Purple Potato
1 purple potato, washed and chopped into large pieces
1 tablespoon olive oil
Pinch of kosher salt
Pinch of black caraway seeds
Pinch of dried sage
Preheat oven to 400 degrees. Line a cast iron skillet with aluminum foil. Toss all ingredients together in a bowl. Transfer potato mixture into skillet and bake 30 minutes or until done to your liking. Enjoy!