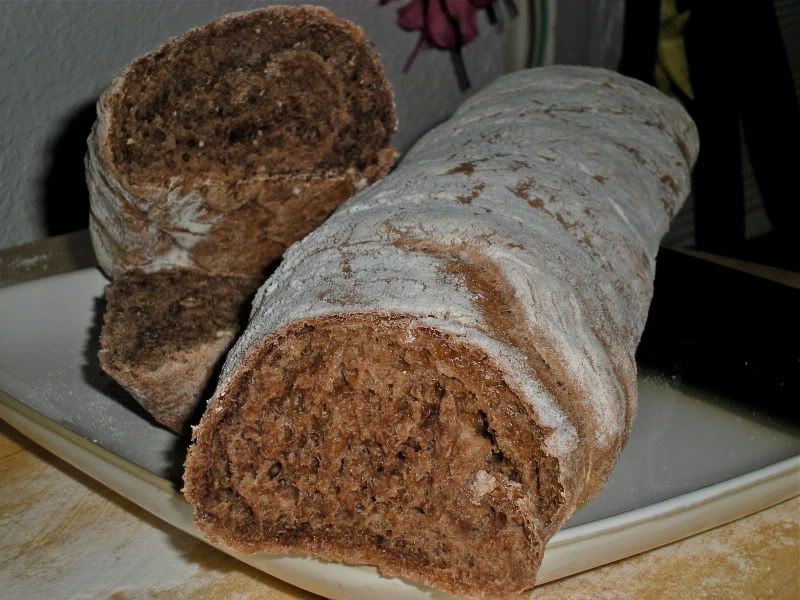 Yesterday during some downtime at work I stumbled across a recipe for a heavenly treat. It was over at
Chocolate and Zucchini
, but, though it looked so deliciously decadent, a sourdough starter is a teensy bit out of my comfort zone. However I was not to be deterred! Armed with this awesome bread idea, I turned to that bread baking cookbook my mom gave me to suit my novice bread making skills!
I took the Pane Francese recipe and altered it a bit to include the ingredient of the hour! Since I had never made such a bread before, I went light on the cocoa powder and added in some chopped up bittersweet chocolate.
We were having issues with our internet service so we had to wait around all day for the company to come out and reattach the apartment to the telephone line... Then we had to reset the router... Only the determined bread maker can maneuver around the modem and router that have taken up a temporary residence under my mixing cart!
Haha!
Let me say this: the bread smelled utterly
amazing
while it was baking. Kyle and I were chomping at the bit to try it. Normally I can control myself and at least wait until the next morning to slice into a loaf - but not this bad boy! It made it about 5 minutes before the knife came out and the beautiful crust was broken.
Oh. My. God.
This bread was heavenly. Chocolatey but not sweet, crusty on the outside and soft on the inside. Wow. Perfection in loaf form.
This is going to be a staple in my house for sure.
Chocolate Pane Francese
1 package active dry yeast
1/4 cup warm water
3 cups all purpose flour
2 tablespoons cocoa powder
1 teaspoon turbinado sugar
1/2 teaspoon kosher salt
3/4 cup ice cold water
1/4 cup skim milk
1 ounce bittersweet chocolate, roughly chopped
In a small bowl, sprinkle yeast over warm water, mix with fingers and let stand until foamy. In stand mixer, using hook attachment, combine flour, cocoa, sugar and salt. Add yeast mixture, milk and water then beat on medium speed until well blended, adding bittersweet chocolate about halfway through. On low speed, beat the dough until elastic and shiny, adding flour by teaspoons if the dough is too sticky. The dough should be sticky, but touchable.
Cover bowl with plastic wrap, a towel or the lid to a large bowl (as long as the dough can breathe it's all good) and set in a warm place to rise until doubled in size, about 1 1/2 hours.
Sprinkle dough with flour and turn out onto a well floured surface. Knead by hand for a few minutes to incorporate the flour and make the dough easier to work with. Cut the dough in half and roll each half into long rectangles. Starting at the short side roll dough tightly, pressing down each seam as you roll. They will be long loaves, so don't worry!
Cover lightly and allow loaves to rise for 30 minutes.
Preheat oven to 475. Transfer loaves to greased cookie sheet (or sheets in my case since my oven is so tiny). Set aside for 15 minutes to allow them to get slightly puffy.
Place bread in the oven and reduce heat to 425. Bake 20 minutes or until crust is nice and crispy feeling. Turn off the oven, crack the door and allow bread to sit in the cooling oven for 5-10 minutes. Remove from oven and immediately transfer to a cooling rack. Then DIG IN!