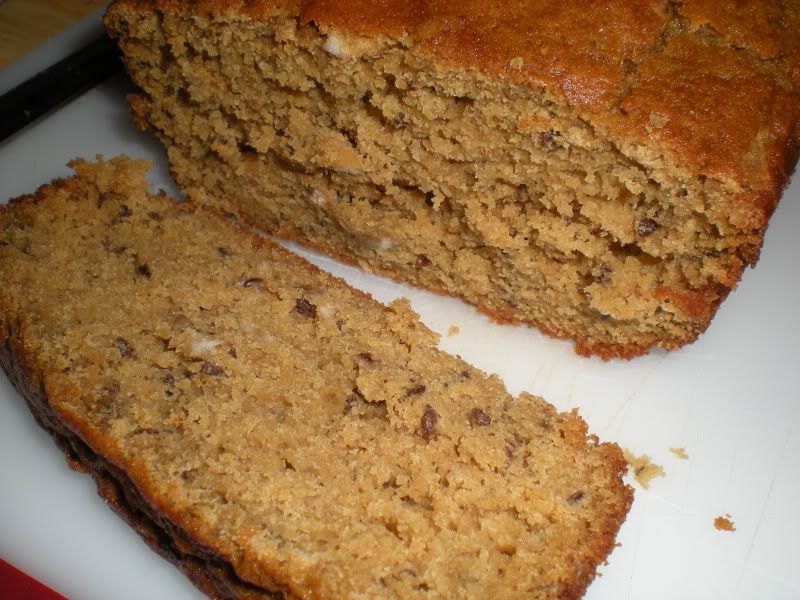 Last night I had a conundrum; I wanted to bake banana bread but did not have a gluten-free recipe for it. Sure, I had a recipe for regular banana bread (taken from the Grandma's Touch cookbook my mom bought me years ago) but I vividly remember the last time I tried to convert a recipe to gluten free. Let's just say it turned out to be chocolate GOO rather than brownies. Haha! But I really wanted banana bread.. so I gathered up my courage and converted it anyway! As I'm happily adding ingredients into my mixer, I was horrified to see that the recipe called for 1 CUP of bananas rather than 1 banana in itself. No wonder the mixture looked so runny. I grabbed some banana chips off the shelf of the pantry and crushed up a handful or so of them and threw them into the mixture hoping that would solve my problem. Well I don't know if it solved things or not, but the bread came out beautifully and is a big hit at the bank! Hooray for banana bread success!
Banana Bread
1 3/4 cups brown rice flour
1/8 cup flax seed
1/2 teaspoon baking soda
1 1/2 teaspoon baking powder
1/8 teaspoon salt
Handful crushed banana chips
Cinnamon, to taste
3 tablespoons olive oil plus 1 tbspn butter
3/4 cup brown sugar
1 egg
1 mashed banana (I just broke up the banana and let the mixer mash it in)
1 cup skim milk
Preheat oven to 350 degrees. In a large bowl, beat together oil, sugar and egg. Add bananas and milk; combine well. Add remaining ingredients and mix well. Pour batter into a greased and floured 5 x 9" loaf pan. Bake for 50 minutes or until inserted toothpick comes out clean.