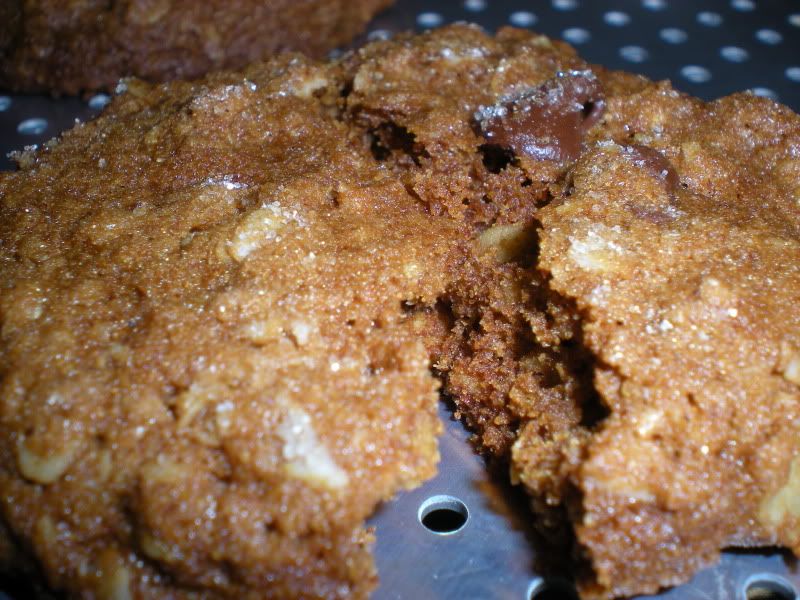 It's that time of the month.. the time to send Kyle goodies through the mail! I really love to send him cookies or whatever I can fit into the mailbox and send out. I didn't have the ingredients for his favorites from the last time I sent him cookies, so I searched my cookbooks for a new one. I broke open this cookbook I've had for years, Milk'n'Honey Cookbook for Kids and altered the cookie recipe in it. The original recipe calls for margarine, honey, and raisins. Kyle doesn't like raisins, I don't like margarine, and I've been wanting to bake with molasses. These cookies turned out delightfully unique and tasty! I sent them out to Kyle and he absolutely adores them. Good thing I kept a baggie full of dough in the freezer to nibble on..
Molasses Globs
3/4 cup packed brown sugar
1/2 cup softened butter (1 stick)
1/4 cup molasses
1 large egg
1 1/4 cups rice flour
1 teaspoon baking soda
1 teaspoon ground cinnamon
1/4 teaspoon salt
1 1/2 cups oats
1/2 cup chocolate chips
sugar and cinnamon
Preheat oven to 375 degrees. Grease cookie sheet (I only have one that I can use since my oven is the size of a tissue box..) with some olive oil. Mix together brown sugar, butter, molasses, and egg. Slowly add flour, baking soda, cinnamon, salt, and oats until well blended. Mix in chocolate chips until just blended. Roll dough into balls about the size of .. well.. it says walnuts but I just kinda guestimated since I have no idea what the size of a walnut is. Place the cookies 2 inches apart on baking sheet. Press the balls flat with a spoon dipped in sugar and cinnamon. Bake about 10 minutes or until lightly browned and edges are set. Remove from pan and cool on a wire rack. Then enjoy!!