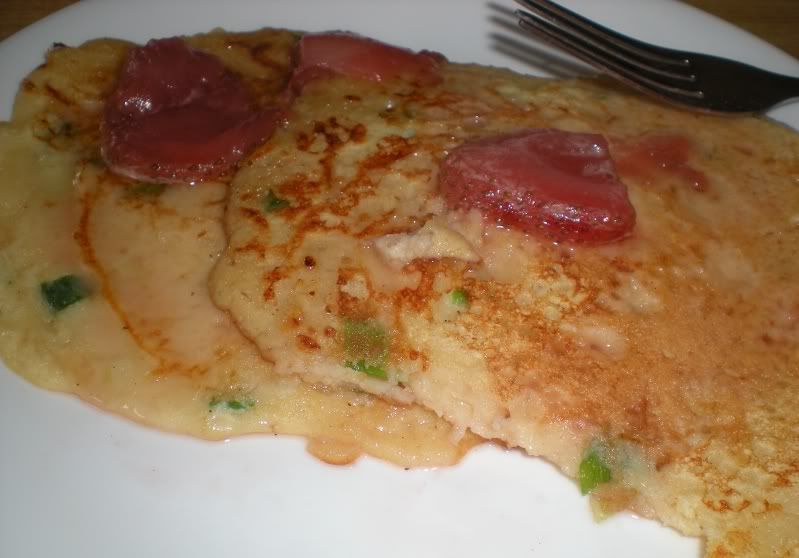 I just returned from my Clemson, SC vacation! Don't get too excited, though it was very sunny and pleasant.. it was COLD! While there I was determined to use up Kyle's brown rice flour and in turn created a delicious pancake recipe for our Valentine's Day lunch! The flavor for the pancakes was inspired by an awesome strawberry, onion, and spinach salad my mom served last summer. Kyle said they reminded him of potato latkes. The combination of ingredients was downright delightful! I whipped up a strawberry sauce, that, while tasty, was not the right consistency. I'm still working on my syrups! It did include freshly sliced strawberries simmered in a pot with sugar and water. Anyhow, without further ado, I give you..
Brown Rice Flour Pancakes
1 1/2 cups brown rice flour
1 egg
1 cup milk (I used skim)
2 green onions, minced
3 generous handfuls shredded cheese (I used a parmesan-asiago blend)
salt and pepper to taste
In a medium mixing bowl, pour milk over the brown rice flour and set aside for 5 minutes. Whisk the egg and add, along with remaining ingredients, to the bowl. Mix until batter is just coming together and allow it to rest for another 5 minutes. Melt some butter on a hot griddle before ladeling batter on. Allow to cook for a few minutes on each side, until the pancake is lightly browned, before flipping. Serve with freshly sliced strawberries or a strawberry syrup.