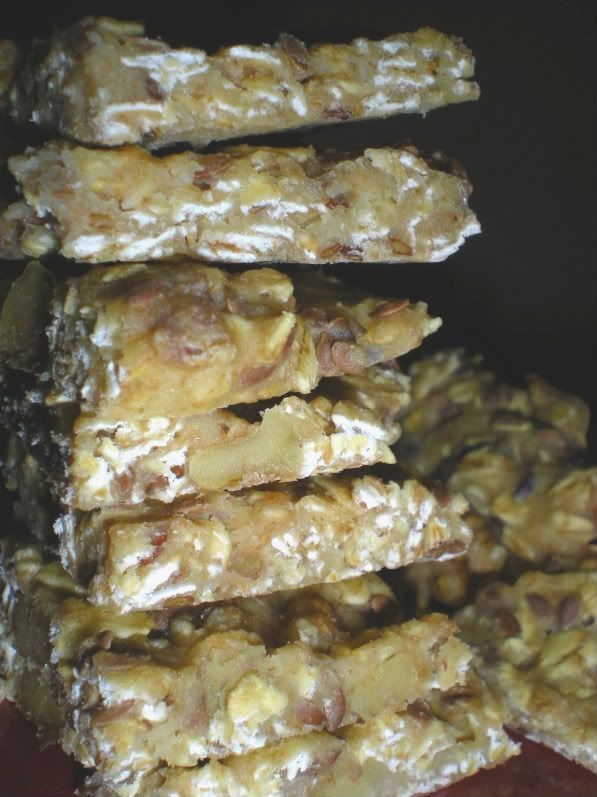 Last night we had a benefit out at Gunther's in Plainfield for my cousins, Kylie and Taylor, and in memory of my uncle, Jeff. Out late and partying hard with my family left little time for sleep. So there's no reason I should want to bake anything tonight.. says the bake-aholic..
I discovered this recipe a few days ago over at
Tartlette
. I figured after the amount of sugar I injested over the past few days, this recipe would be perfect to get me back on track. They're very tasty and very filling with tons of fiber! I plan to try them warmed up with some milk poured over the top. Yum!
Lavender Oatmeal Bars
1/4 cup whole wheat flour
1/4 cup millet flour
3/4 cup oats
1/3 cup chopped walnuts
1/8 cup flax seed
1 teaspoon lavender
1 egg
1/4 cup plain yogurt
1 teaspoon agave nectar
1 teaspoon vanilla extract
Preheat oven to 350. In a large bowl, mix flours, oats, walnuts, flax seed, and lavender. In a separate bowl, whisk egg, yogurt, agave nectar, and vanilla extract. Add the egg mixture to flour mixture and combine well. Spread onto a greased cookie sheet. Bake 8-10 minutes. Remove, let cool, and cut into sections with pizza cutter. Enjoy!!