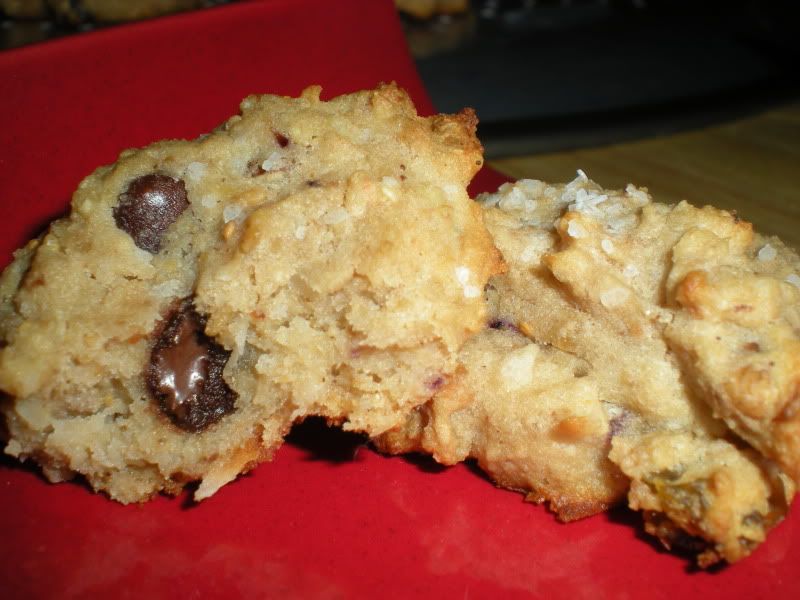 So after a
slightly
stressful day, I enjoy coming home and whipping up something in the kitchen. It's my relax time. I start with a recipe and change it up until it's no longer recognizable. This is what I did last night, creating what I call the Fruit Cookie (aka Everything but the Kitchen Sink Cookie). With no refined sugar and a bunch of fruit, it's a little more like a muffin than a cookie. Delicious with a dollop of peanut butter for breakfast. =) I think next time I might try adding in some fresh minced ginger..
Fruit Cookie
1/2 cup applesauce (I used homemade with plums in it)
1/2 cup tahini paste
1/4 cup butter
1 banana, mashed
1 egg
1/2 cup brown rice flour
1/2 cup white rice flour
1 teaspoon baking powder
1/4 teaspoon salt
1/4 cup chocolate chips
1/4 cup raisins
1/4 cup chopped walnuts
1/4 cup coconut, sweetened
Preheat oven to 350. Lightly grease a cookie sheet and set aside. In your trusty mixer, beat together applesauce, tahini, butter, banana and egg until well mixed. Incorporate flours, baking powder and salt. Stir in remaining ingredients until your yummy batter is created. Drop dough by spoonful onto cookie sheet, lightly spreading batter with the back of the spoon. I discovered after the first batch that this dough won't spread. If you want a more muffin-y cookie, you can skip spreading the batter out - they're just as yummy that way! Sprinkle with kosher salt. Bake for about 18-20 minutes, then place cookies on a cooling rack to cool.