I have finally done it! I've mashed the beans, made the dough, steamed the buns, and made.. RED BEAN CAKES! These are not your ordinary cakes. I put my own personal spin on them, of course. Quite some time ago I made sweet potato biscuits with sage gravy.. now let me tell you, making biscuits is HARD WORK! I haven't made them since, but decided this was the right time to pull them out and use them for my experiment! I borrowed my dad's bamboo steamer and went to work on creating!
Red Bean Stuffed Sweet Potato Biscuits
For the Red Bean Paste:
1 cup red adzuki beans
1/2 cup sugar
For the Biscuits:
3/4 cup cooked, mashed sweet potatoes
1 1/4 cups white rice flour
2 tablespoons butter
2 tablespoons extra virgin olive oil
4 teaspoons baking powder
2 tablespoons sugar
1/2 teaspoon salt
3 tablespoons milk
Cook up the beans on the stove until they're nice and soft, this will take roughly 2 hours and you will have to keep adding more water as they cook. Once all nice and soft, mash the beans up and add the sugar. Mash it some more until the sugar is all incorporated, then set aside.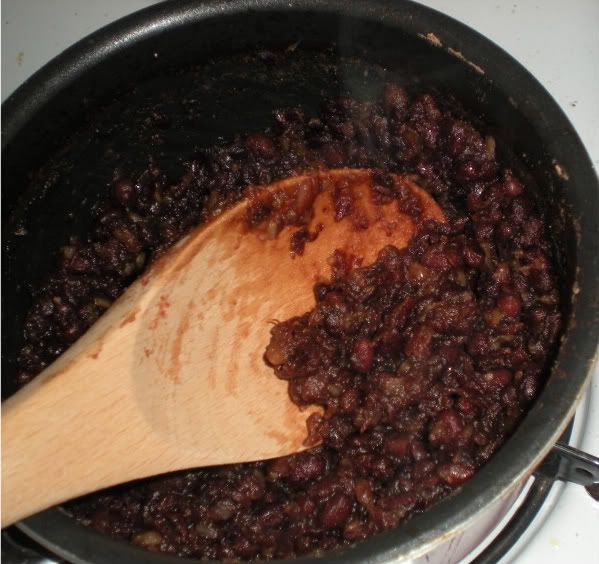 Mix together the flour, sugar, baking powder, and salt. I cheated a bit on this next step. Since I cooked up the potatoes the same day, I just added the butter into the steaming mashed potatoes along with the oil and mixed them up that way. Add the potatoes (& Co) to the flour mixture and combine well. Add milk and mix until the mixture looks nice and doughy, like this!
Here comes the messy part.. this dough is rather sticky and requires quite a bit of flour to roll out. I regret that I did not take more photos of this, but I was alone and had messy fingers! I took about a third of the dough at a time and worked in some all purpose gluten free flour to make it suitable for rolling (in other words, so it wouldn't stick to my makeshift rolling pin: the outside of my pushup measuring cup!) I rolled the dough out into about quarter inch or so thickness and cut them out using the same tool I rolled with, which turned out circles about two inches across. I then took roughly a spoonful of red bean paste, placed it in the center of one of my dough circles, covered it with another circle, and smoothed the edges closed so they were seamless. I repeated this process over and over again until I had very little paste and very little dough left. I mixed the two together and made two buns out of them.
I then left my little buns in the fridge for 3 hours while I ran out to visit my Grandma and play with my niece. When I came home, it was time to STEAM!! Since I don't have a wok, I set up the bamboo steamer on my big red pot and added some lavender to the water for flavor. I set about four buns at a time in each basket (on top of some wax paper) and let them steam for about fifteen or so minutes.
Now, this is going to be hard, but try to let them cool before you remove them from the wax paper or they'll fall apart! Once they're off the paper.. it's munching time!