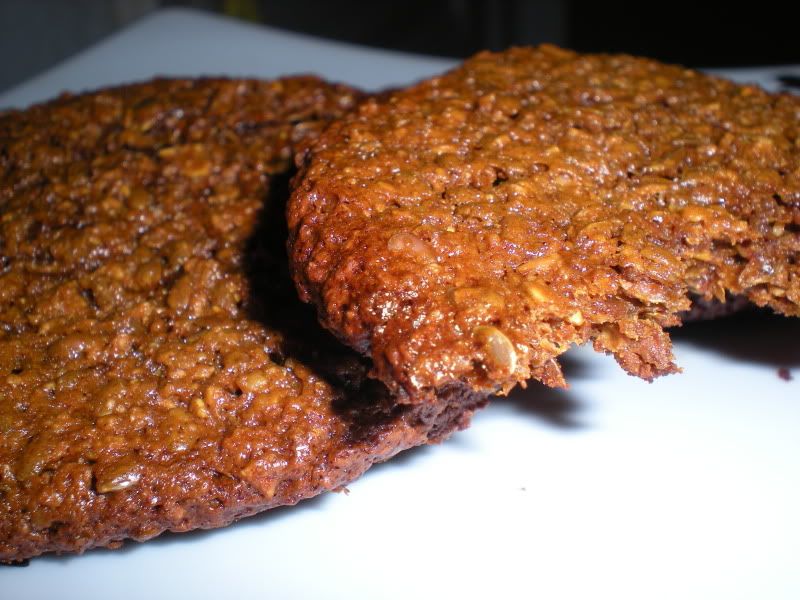 So, in leiu of going to the gym this morning I decided to make these "cookies". I don't have any maple syrup, so I used molasses. I have no coconut oil, so I used peanut butter. You get the picture.. A link to the original recipe can be found on
this
page of Diet, Dessert and Dogs. The first batch I cooked for 13 minutes and they burnt a bit, the second batch I cooked for about 8 was a bit gooey-er. So I'd say just eyeball it somewhere between those times and you should be good! This stuff tasted yummy and I'm excited to eat the cookies. They seem fairly healthy and have lots of fiber, so they can't be bad for lunch right?? Anyway.. enjoy!
Molasses Flax Cookies
1/2 cup whole oats
1 tablespoon peanut butter
3 tablespoons molasses
2 tablespoons agave nectar
1/2 teaspoon vanilla extract
2 tablespoons finely ground flax seeds
3 tablespoons whole flax seeds
1/4 teaspoon baking soda
1/4 teaspoon baking powder
1/8 teaspoon kosher salt
Preheat oven to 350 (if you can get it to WORK - grumble, grumble). Grease a cookie sheet and set aside. In a food processor, grind up oats until powdered. Add in remaining ingredients and blend well. Drop onto cookie sheet in roughly tablespoon sized amounts. They will spread pretty far. Cook these between 8-13 minutes and allow to cool before removing from the cookie sheet. Cookies harden as they cool. Then enjooooooooooy!