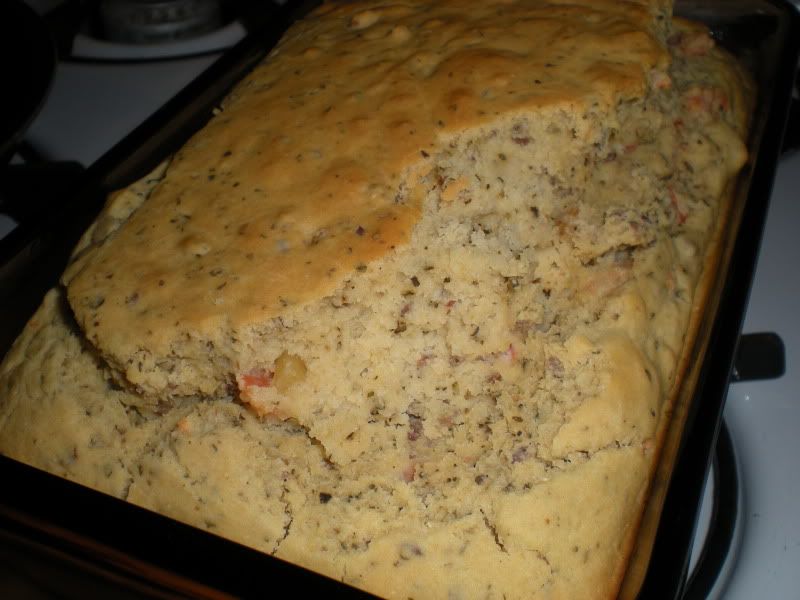 I'm so proud of this recipe! The original recipe I discovered on Fran's House of Ayurveda (her Olive Walnut Bread) and thought it sounded delicious. Of course, empowered by my banana bread success, I sought to convert it to a gluten free recipe. I glanced in my pantry.. no olives. Why does this always happen? I did, however, have one sun dried tomato and one plum tomato. I changed changed a few ingredients here and there and Tomato Basil Bread was born! I know walnuts and tomato sounds like an odd combo, but the result was just divine. In the future I might add a tad more oil or take the bread out of the oven sooner to keep it a bit more moist, but on the whole I was pleased with the results!
Tomato Basil Bread
2 cups brown rice flour
1/2 cup GF all purpose flour
1/8 cup flax seed
1 tablespoon baking powder
1/4 teaspoon kosher salt
1 tablespoon dried basil
1 large egg
1 plum tomato, diced
1 sun dried tomato, diced (more if desired)
1 cup skim milk
1/4 cup extra virgin olive oil
2 tablespoons agave nectar
1/2 cup walnut pieces
Preheat oven to 350 and grease a loaf pan. In a large bowl, thoroughly combine flour, flax seed, baking powder, salt, and basil. In your mixer, combine milk, olive oil, egg, and agave nectar until well blended. Add in flour mixture along with tomatoes and walnuts. Pour mixture into loaf pan and bake 45 minutes or until a knife inserted comes out clean. Enjoy with some hummus or walnut butter.. mmmm..