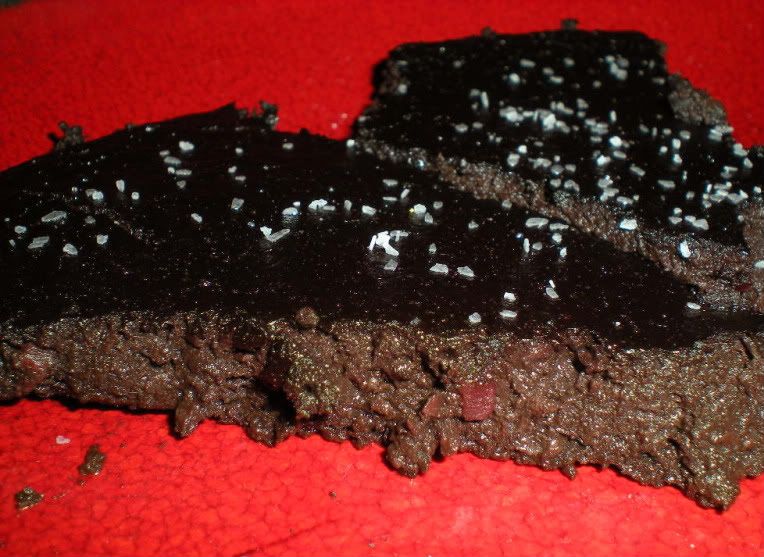 I'm not gluten-free anymore, but I still enjoy baking that way once in a while. It's refreshing to say that you've created something without flour! Though the torte was super difficult to get out of the pan, I enjoyed the bittersweet chocolatey pudding-y solidity of its consistency.
Yes that's my technical term for the consistency of this cake.
Pudding-y solidity.
Want to hear the absolute best part of this recipe? I know you do...
It has 500 calories. No, not for a slice, for the whole entire cake! I know, it doesn't seem possible, but oh my it is. I am tempted to sit down with a fork and the pan to eat the whole thing. Somehow I feel that would be a bad idea for my poor tummy, though. But hey, where else can you get such decadence for so few calories?
Purple GF Torte
1 14 ounce can beets (the kind with just beets and water), rinsed
1/4 cup cranberry sauce (I used canned, but you could probably use fresh, too)
1 tablespoon molasses
2 eggs
1/4 cup dark cocoa powder
2 1/2 teaspoons vanilla extract
1/2 teaspoon almond extract
1/4 teaspoon salt plus more for sprinkling
Preheat oven to 350 degrees. Grease a 9-inch cake pan, then dust with powdered sugar. Set aside for later use.
In a food processor, add beets, cranberry sauce and molasses. Puree together, then pulse in eggs, cocoa, extracts and salt until well blended. Pour mixture into the cake pan and bake for 30 minutes or until a toothpick inserted in the center comes out clean. Remove from oven and sprinkle with coarse salt. Cool the torte, slice and serve as desired.