Nutcrackers, giant rats, dancing sugar plum fairies...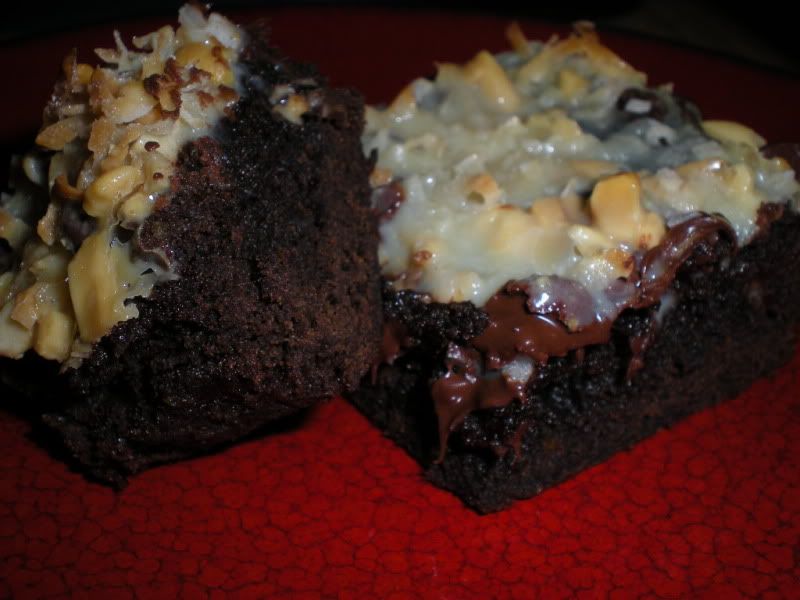 It's Christmas in May! I have discovered a new (to me anyway) blog that has tickled my fancy like it's never been tickled before. Normally I will not openly drool all over my keyboard at work, but that is exactly what the recipe for
Mayan Mudslide Brownies
over at Sugar Plum had me doing. Chocolate... mmm… avocado… mmmmmmm… more chocolate…Yep. Big ole' puddles of drool shorting out the keyboard.
I made a few smallish adjustments to the recipe, so I'll reprint it here, but I cannot take any of the credit for this idea! It was all Miss Sugar Plum. Her website is truly amazing. I spent hours reading through her recipes and laughing aloud at her fun-loving rambling wit. In one post she even remarks that she has an ice cream truck that drives down her street playing Christmas melodies… that's quite a distance for that guy to travel in a few months just to sell ice cream, let me tell you.
Anyway, for months I've been looking for a brownie recipe I can be satisfied with. I usually end up with something too sweet, too fluffily cakey, too ordinary. I like my brownies uniquely dark tasting and dense. I believe I'm nearing the end of my search for Brownie Perfection with help from the SP Fairy!
Have a chocolate filled day!
Mayan Mudslide Brownies

(the reproduction)
1/4 cup unsalted butter
4 ounces semisweet chocolate, coarsely chopped (I'd say unsweetened baking chocolate would work here too)
3/4 teaspoon coffee grounds
1 cup all purpose flour
2 tablespoons dark cocoa powder
3/4 teaspoon baking powder
1/4 teaspoon kosher salt, finely ground up plus 1/8 teaspoon
1 large avocado, peeled and pitted
1 cup granulated sugar plus 1 tablespoon molasses
1 teaspoon vanilla
1 large egg
1/4 cup chocolate chips, give or take depending on taste
1/3 cup chopped peanuts
1/3 cup sweetened coconut flakes
1/4 cup dulce de leche, canned
Preheat oven to 375 degrees. Line 8x8-inch baking dish with foil and coat with canola oil.
Melt butter in a small saucepan over low to medium heat. Turn heat off and stir in chopped chocolate and coffee until melted and smooth. Remove from heat and set aside.
In a medium bowl, stir together flour, cocoa, baking powder and 1/4 teaspoon salt until well combined. In Kitchen Aid mixing bowl, beat avocado on medium speed until it starts to get creamy. Beat in sugar and molasses until well incorporated, then add in vanilla and egg until combined thoroughly. Beat in melted chocolate mixture, then reduce mixer speed to low and beat in flour mixture until combined.
Spread batter evenly into prepared dish. It helps to oil the spatula you're spreading the mixture with so it doesn't stick. Sprinkle chocolate chips over the surface of the batter, followed by the peanuts, coconut and the remaining salt; bake 15 minutes. Remove dish from oven and heat dulce de leche in microwave until its liquid-ish then drizzle over brownies. Return the dish to the oven and bake an additional 10-15 minutes or until well risen and set. I stuck a toothpick in the center and when it came out mostly clean along with the other signs I decided it was done. Cool completely on a wire rack (or upside-down pizza pan if you're ghetto-ing it up like me) and refrigerate for easier slicing.
To slice, lift out foil and slice brownies into bars. Supposed to make 16 brownies.

Update:
These brownies were a HUGE hit both with my mom and at the bank. One of the loan officers even asked for the recipe. I happily passed it on!
=)