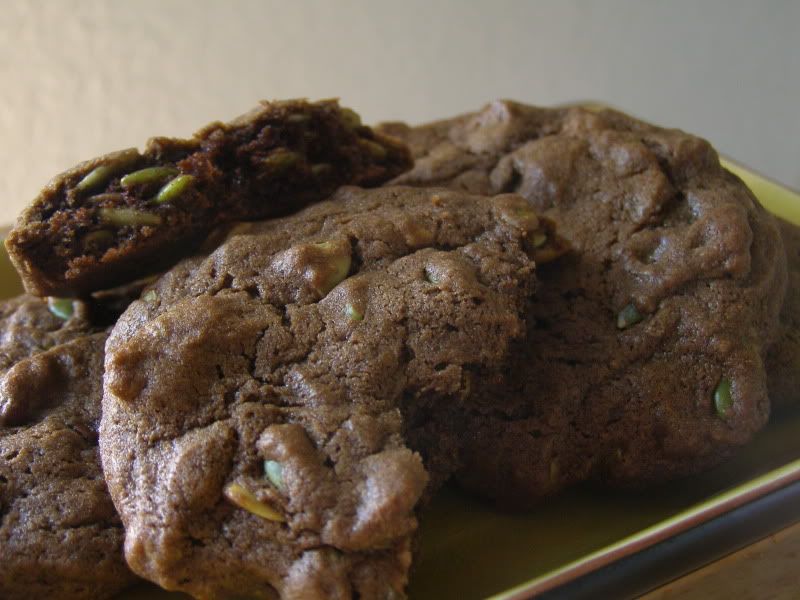 It hit the 90s here and I got to wear a
tank top
!
>insert chorus of angels here<
Needless to say, I'm a little pink. With this goulishly fair skin I burn at the drop of a hat. It's that time of year to stock up on SPF600! Hehe!
Even though the heat is climbing here, I still feel the need to bake. I wanted to make up for the fact that my oatmeal cookies turned out to be such a disaster last night. After all, Kyle is still waiting on a care package for this month! Unfortunately I misplaced the chocolate white chocolate macadamia nut cookie recipe he loved so much. I finagled a few recipes around to come up with a chocolate chocolate chip cookie recipe with raw pumpkin seeds thrown in.
please excuse the camera shadow... technical difficulties!
They're not too sweet, since I cut way down on the sugar, and just a touch on the salty side. Plus this is a combination you don't see every day!
Chocolate Pumpkin Seed Cookies
2 squares bittersweet chocolate, melted
1 cup all purpose flour
1 teaspoon baking soda
1/4 teaspoon salt
6 tablespoons unsalted butter, softened
1/2 cup granulated sugar
1 teaspoon molasses
1 egg
1/2 teaspoon almond extract
1/2 cup raw pumpkin seeds
1/2 cup semi-sweet chocolate chips
Preheat oven to 350 degrees, grease a cookie sheet and set aside. Mix flour, baking soda and salt together in a small bowl and set aside. In a large bowl, beat butter, molasses and sugar on medium speed until light and fluffy. Add eggs and almond extract, beating until well combined. Add chocolate and do the same. Gradually beat in flour mixture, then stir in seeds and chocolate chips. Drop by heaping tablespoons onto the greased cookie sheet. Bake 11-13 minutes, cool on the cookie sheet for 2 minutes before transferring them to a cooling rack. Makes about 15-16 cookies.