Want to know what can lift your spirits on a dreary Friday afternoon?
When your coworker gets a box of free cookies as big as your hand and SHARES them!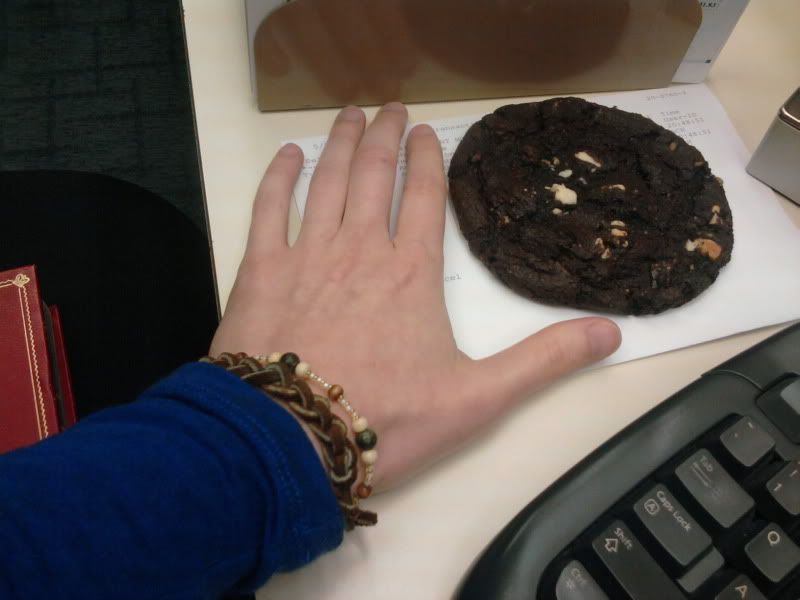 See? I wasn't kidding! They were as big as my hand! And there were four stacks of six or seven cookies! There were dark chocolate with white chocolate and macadamia nuts, dark chocolate with mint, chocolate chip and butterscotch walnut.
They were so incredibly yummy! Crispy and buttery, yet so soft and chewy… mmm…
Of course this sent my baking senses a-tingling. I wanted to create a cookie to send to Kyle. Think how much I'll save on postage when he moves up here! I dug into my recipe box and found an oatmeal cookie from one of my mom's friends. I only have steel cut oats and, as I found out, they don't work the same as rolled oats.
I'll post the real recipe here in case anyone wants to make her delicious oatmeal cookies. But first, I'll tell you my crazy story!
Not wanting to make too many cookies, I quartered the recipe. I substituted those steel cut oats for rolled, like I mentioned before. I used brown rice flour instead of an all purpose, peanuts and added in some chopped up dried chili mango.
When I went to roll the mixture into balls, they wouldn't stick together. Here's where I started to fret a bit. I added in an egg. Oh no, one egg with a quarter of a recipe… that's a recipe for cooked eggs with some oats inside. So I added 1/4 cup of millet flour. For good measure I tossed in 1/8 cup of butterscotch chips.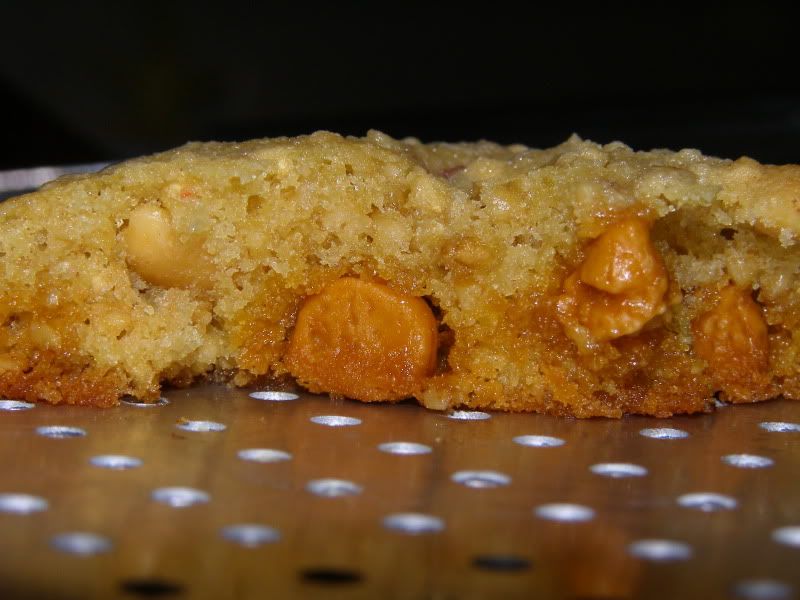 I dropped four heaping tablespoons onto my cookie sheet and started the baking process, excited to see what was going to happen!
Well, they were a lot fluffier than I wanted them to be. Yep, that was the egg talking. So to the remaining batter I added 1/8 cup more chopped mango. At this point I'd already decided the cookies weren't going to be what I wanted to mail out. I decided to mix it up a bit! I threw in 1/4 cup cocoa puffs, 1/4 cup raisin bran, 1 tablespoon fresh pineapple, and 1 tablespoon tahini.
Yep I know it's weird, but they actually tasted pretty good! Unfortunately they still weren't the right consistency. Maybe next time I might just trust the recipe… Tee hee!
Carole's Oatmeal Cookies
2 cups oatmeal
1 cup flour
1 teaspoon baking soda
2 sticks of butter or margarine (1 cup)
1 cup sugar
1/2 cup chopped nuts (optional)
Preheat oven to 350 degrees. In a mixer cream butter and sugar together. Add in baking soda and oatmeal. Stir in flour and nuts last. Roll dough into balls and place on cookie sheet. Bake for 10-12 minutes. Makes 3-4 dozen cookies.