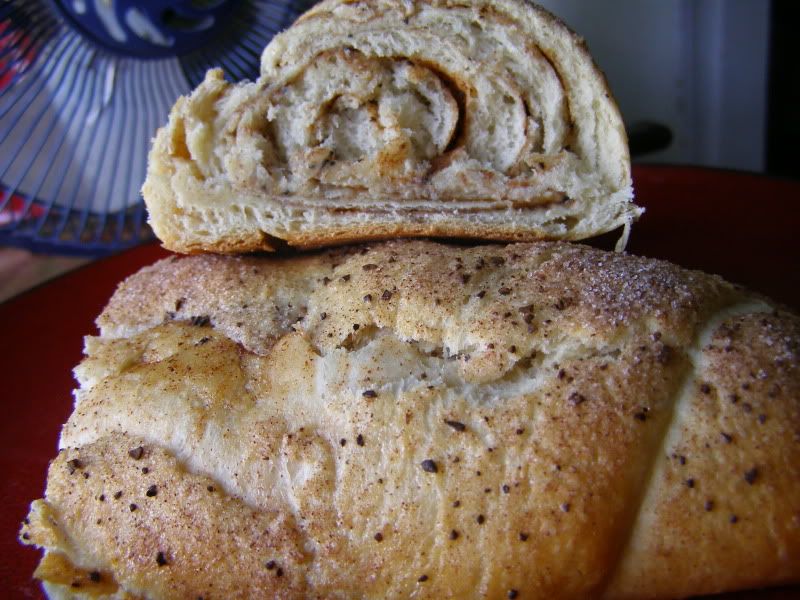 Happy long weekend to you all! I love this time of year. Everyone fires up their grills and cooks up some awesome grub, Bobby Flay style! I love Bobby Flay, he's so fun to watch. I caught his story on that "Behind the Chef" thing on the Food Network one day, such an amazing story, too. You should try to watch it sometime!
Sadly I don't own a grill. I know enough people that do have one to sustain me for a while I believe. =) Such as my parents with their awesome grilled quesadillas!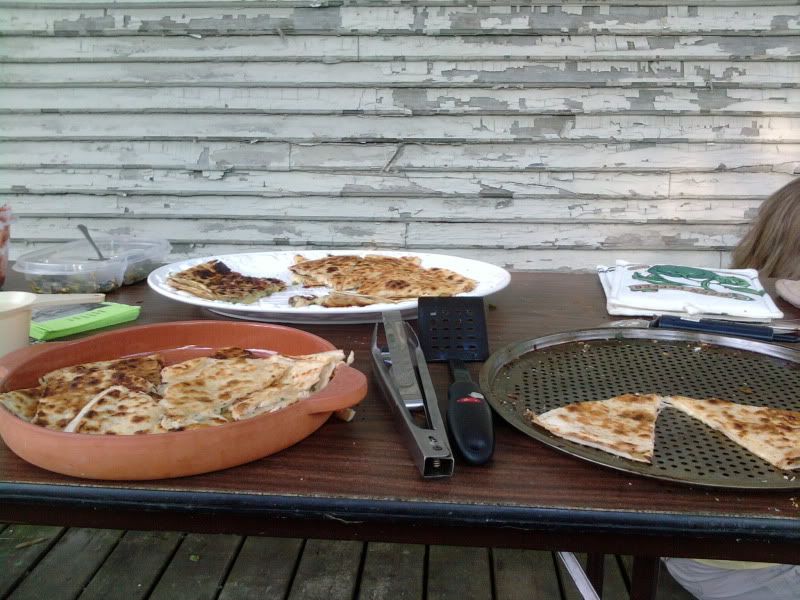 My recipe has nothing to do with grills or meat, however. Oooh I just got an idea. When I get my own grill I could bake it in there! Perhaps it would first be a better idea to learn to not burn a hot dog on the grill as my first outdoor chef-ing experience..
I've been searching for a bread recipe that doesn't seem too complicated for my novice bread-making hands to conquer. After getting an email about 55 Knives, a blogging cookbook that was put together and just came out for download, I noticed one contribution was from a blog named Sticky, Gooey, Creamy, Chewy. I giggled at the name and browsed around her site. I stumbled upon a post for
Cinnamon Raisin Swirl Challah
. Now I've never had challah before. That I can remember. But it looked
so good
... this was my ticket!
I mixed up the ingredients and leaving it to rise while I watched my Teenage Mutant Ninja Turtles dvds (the original tv series, mind you) and had an unfortunate little mishap. Despite the 90 degree weather we've been having, the one day I decide to make bread the temperature decides to drop to the 60s. Two hours later when I checked on the dough, it had definitely not doubled in size. I moved it to sit on my dinky little warm oven where it promptly rose the way a nice yeast bread should. Good little bread **pat, pat**. I didn't have time for the rolling process until today, but the recipe said I could leave the dough in the fridge for up to 5 days before I'd have to freeze it.
Now as far as the filling goes, I used three different options. Since I made only half of the recipe, I made some mini loaves. One with goat cheese and a jalapeno-peach "jam" I made up on the stove, one with cinnamon and coffee, and one cinnamon raisin. I had a few problems with the centers of the last loaves baking through, but humidity is a killer. Next time I'll just have to have the air on!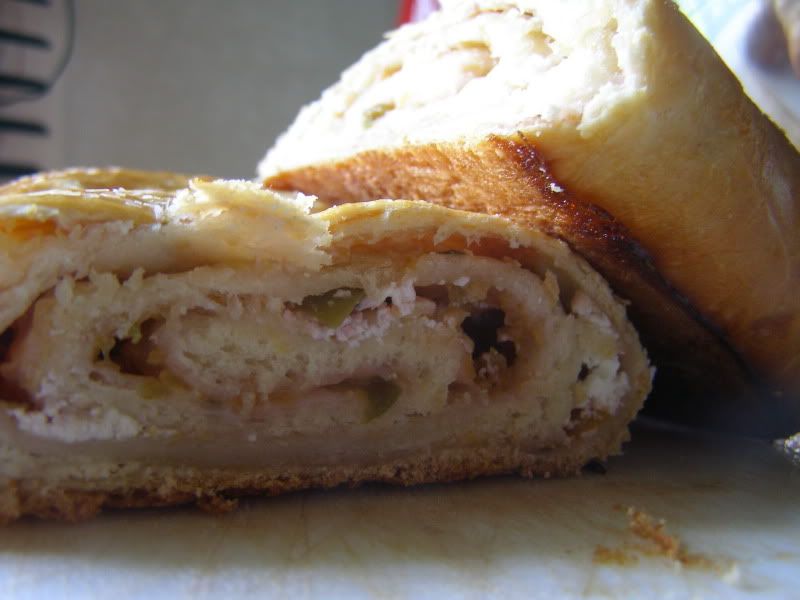 Challah Swirl Bread
(half recipe: makes 2 regular sized loaves)
1/2 cup plus 6 tablespoons lukewarm water
2 1/4 teaspoons active dry yeast
1 1/2 teaspoons kosher salt
2 large eggs, whisked
1/4 cup honey
1/4 cup melted butter (or canola oil)
3 1/2 cups all purpose flour
From here I just followed the directions posted on Sticky, Gooey, Creamy, Chewy (I linked the page a little earlier). She has great step by step instructions written up!