The Italians certainly have it right: cookies for breakfast!
I am absolutely head over heels for biscotti. Every year for Christmas, a really close family friend makes her famous Cappucino Biscotti for my dad and I. We usually take turns hiding the bag so we can have the last delicious morsel.
Well it's not really Christmas, but I'm in the mood for some crunchy Italian treats. With the temperatures rising, I wanted to bake something a bit lighter tasting than the rich flavors of cocoa and coffee. I opted for a mix of carrot with lavender and a hint of ginger.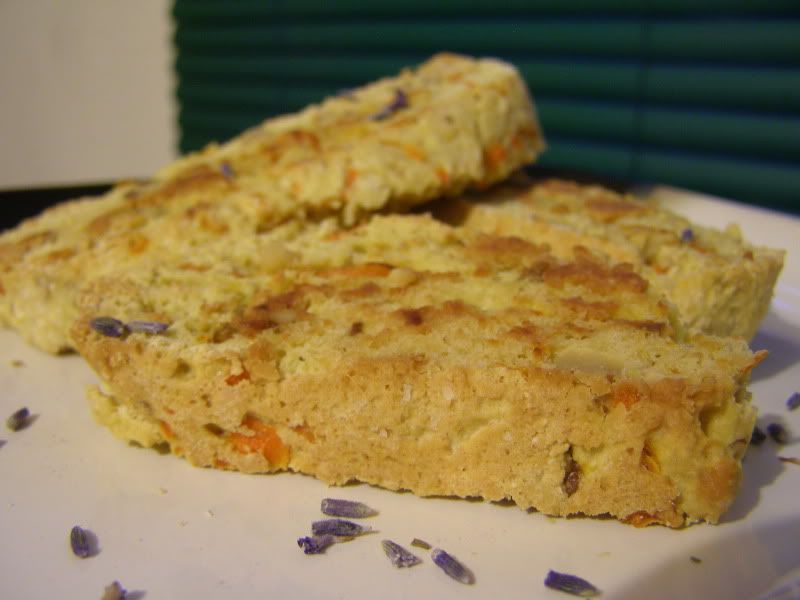 Well, the result was a little more scone-like, but without the butter! Next time perhaps I'll try adding in an egg white or using only egg whites to keep it less moist. The flavor is still awfully delicious, though!
Lavender Carrot Biscotti
2 cups all purpose flour
1/4 cup millet flour
1/3 cup walnut pieces
1/2 teaspoon baking powder
1/2 teaspoon salt
1 teaspoon ground ginger
Pinch of nutmeg
2 eggs
1 teaspoon almond extract
2 tablespoons
very
hot water
1/2 teaspoon lavender buds
2 medium carrots, roughly grated
Preheat oven to 325 degrees. Oil a cookie sheet liberally with canola oil and set aside. Place the lavender buds in the hot water and allow to soak for at least 10 minutes. In a large bowl, combine flours, walnuts, baking powder, salt, ginger and nutmeg. In mixer bowl using paddle attachment, add carrot, lavender mixture, extract and egg. Beat until well combined. Add flour and mix well. Switch to kneading hook and knead dough for about 2 minutes, or until the dough pulls away from sides of the bowl. Shape into a log on the cookie sheet. For smaller cookies, and probably crisper results, shape into 2 logs. Bake 40 minutes. Remove from oven and cool for 10 minutes. Slice on a slight diagonal and place flat on cookie sheet. Bake for 10 minutes or until desired crispness is achieved. Cool completely before storing.