TADA! The surprise is revealed!
Cute huh??
So it took a few days to make these delicious treats, but boy were they worth the wait! I finally got to use my little chili pepper cookie cutter to make these little bite sized cookies to send to Kyle for Cinco de Mayo. I even made my own frosting - how very Martha of me! I had cookies coming out of my ears and was so proud I brought them everywhere I could think of! I adapted the recipe from Alton Brown's recipe on the Food Network's website, but I added some lime zest to give them some flair! I still have some of the original dough in the fridge and have since I've adapted the recipe yet again - chocolate with orange zest. So if you've got some time on your hands - I advise whipping up a batch of these buttery, limey, sugary treats! Enjoy!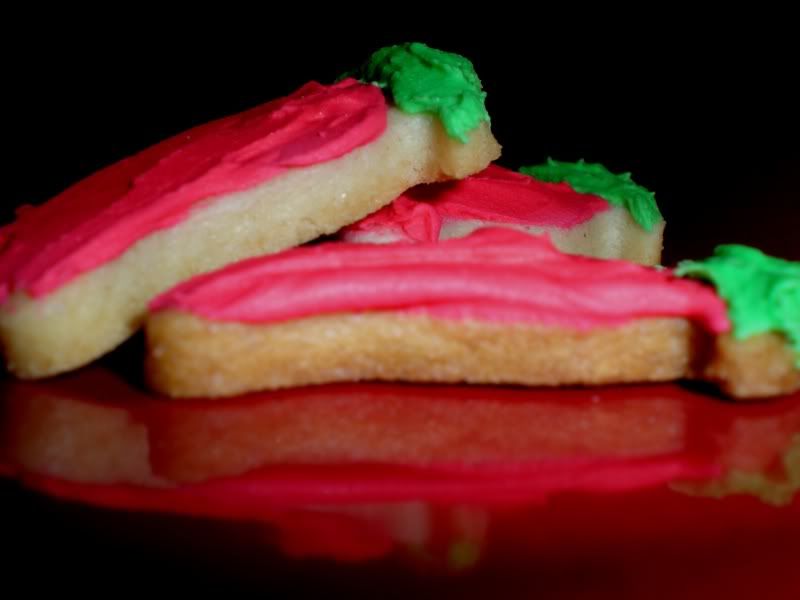 Sugar Cookies with Lime Zest (original recipe courtesy of Alton Brown via foodnetwork.com)
3 cups all purpose flour
3/4 teaspoon baking powder
1/4 teaspoon salt
1 cup unsalted butter, softened
1 cup sugar
1 egg, beaten
1 tablespoon milk
Zest of one lime
Powdered sugar for rolling out dough
Sift together flour, baking powder and salt, set aside. Whip together butter and sugar until light in color. Add egg, milk and lime zest, continue mixing. Turn mixer to lowest setting and slowly add flour mixture. Beat until mixture pulls away from the side of the bowl. Divide the dough in half, wrap in waxed paper and refrigerate for at least 2 hours (now normally I'm not a very patient person when it comes to waiting and food, but it's definitely worth it)
Preheat oven to 375.
Remove dough from the fridge. I found that it was a tad easier to roll if it sat out at room temperature for 3 or 4 minutes. Sprinkle work surface with powdered sugar before setting dough down. Sprinkle the top of the dough with powdered sugar before rolling so the rolling pin doesn't eat the dough! The recipe says to roll the dough until it's roughly 1/4 inch thick. I'm horrible at knowing how thick my cookies are, so I just guestimated and rolled the dough out to my liking. Cut out the cookies with your favorite cookie cutter and place the dough on a greased cookie sheet, just far enough apart so they don't touch. Bake 7-9 minutes or until they start to brown around the edges. Let sit on the cookie sheet for 2 minutes, then remove and place on a cooling rack. Make sure the cookies are completely cool before frosting, or eat them warm (or cooled) without frosting! They're quite delicious!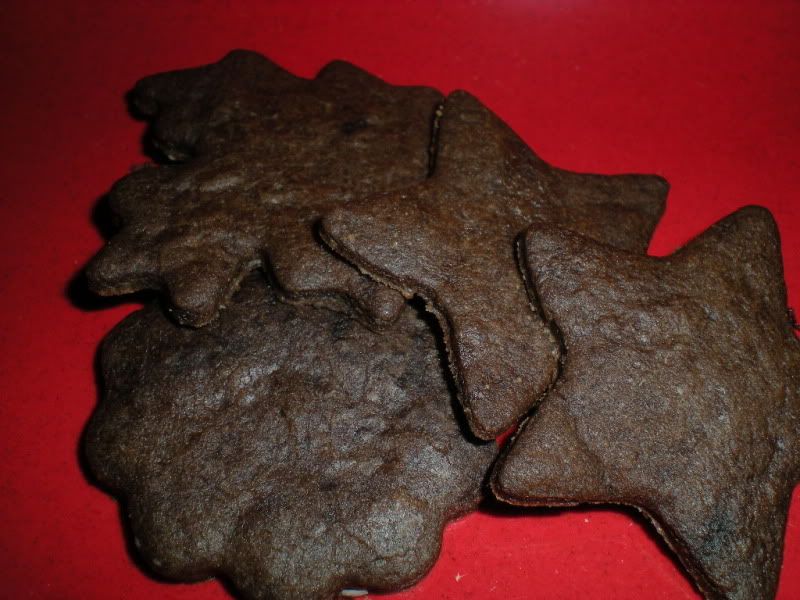 (some more cookies I just "rolled out" last night to mail to a friend in Virginia!)
Alternate recipe:

Chocolate Sugar Cookies with Orange Zest
2 3/4 cups all purpose flour
1/4 cup cocoa powder
3/4 teaspoon baking powder
1/4 teaspoon salt
1 cup unsalted butter, softened
1 cup sugar
1 egg, beaten
1 teaspoon vanilla extract plus enough milk to make 1 tablespoon
Zest of one orange
Powdered sugar mixed with cocoa powder for rolling dough
Follow the above instructions, the outcome will just be CHOCOLATEY as all getout!