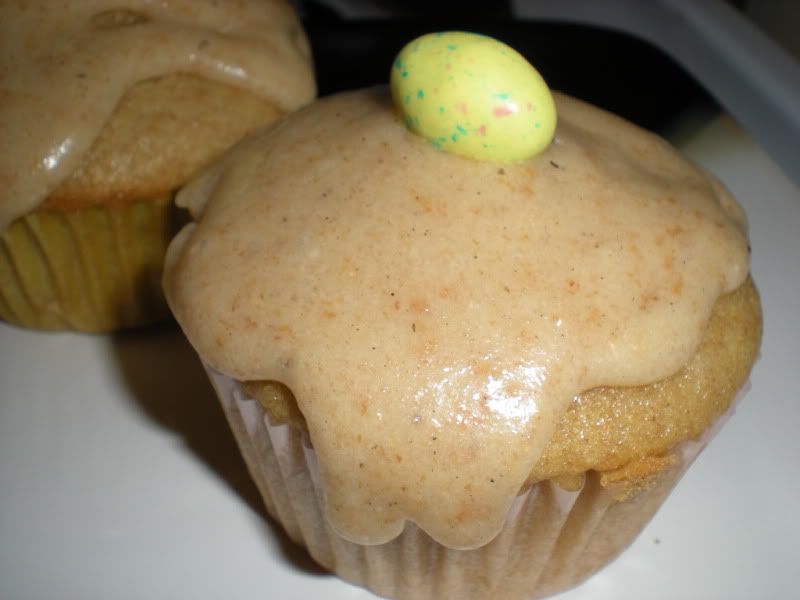 I was visiting my new blog haunt, Cupcake Project, yet again today. Among a ton of recipes I found that I just HAVE to make, I stumbled across her recipe for
root beer cupcakes
. I promptly printed out the recipe and rushed home (well, after work was actually over and I was able to leave) to bake them! Mmm root beer! The perfect pick-me-up plus the second perfect soda in the world! The first, of course, is Dr Pepper. I didn't follow the recipe for frosting on the website since I didn't have any of those ingredients. I also used my trusty Kitchen Aid mixer instead of mixing by hand. I'm a cheater!! I managed to finagle a frosting recipe out of my Better Homes and Gardens New Junior Cookbook I've had since I was a wee baker. Now my decorating abilities aren't quite up to speed, but at least it tastes good! The beauty will come! I did add a malted milk egg to each cupcake after frosting, though! I've recopied the recipe here since I made a few additions and changes. Enjoy the delicious fluffiness of baked root beer!
Root Beer Cupcakes
1 cup root beer soda
1 teaspoon apple cider vinegar
3/4 cup sugar
1/3 cup canola oil
1/2 teaspoon vanilla extract
2 teaspoons root beer soda
1 1/3 cups flour
1/4 cup whole wheat flour
3/4 teaspoon baking soda
1/2 teaspoon baking powder
Pinch kosher salt
Preheat oven to 350 degrees. Combine the cup of root beer and vinegar. Allow to sit for a few minutes. In a separate bowl, combine flours, baking soda, baking powder and salt; set aside. Pour root beer/vinegar mixture into bowl of mixer. Add in sugar and oil, mixing vigorously until slightly frothy. Toss in vanilla extract and teaspoons of root beer. Add flour mixture and mix until just moistened. Fill cupcake liners 3/4 full and bake 18 to 22 minutes or until a toothpick inserted comes out clean. Makes 12 cupcakes.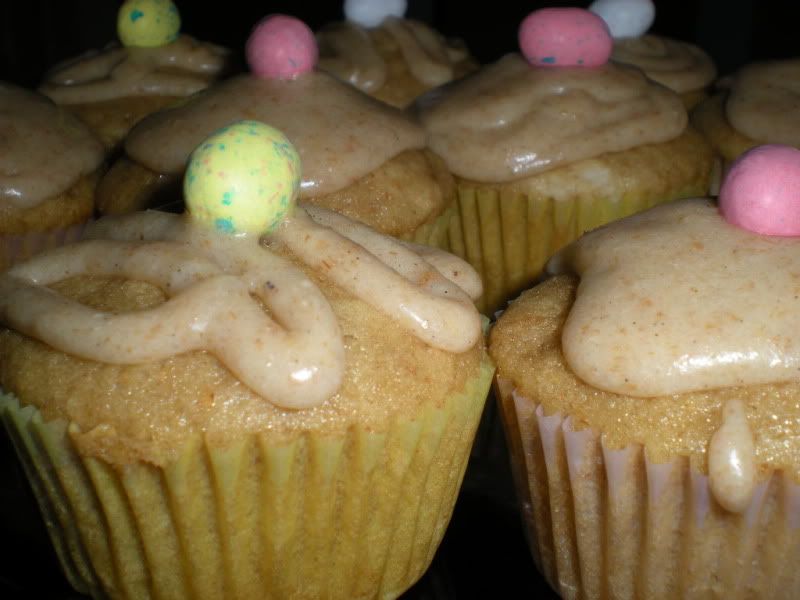 Vanilla Bean Icing
Now this recipe I found to be entirely too sweet the way I altered it, so I altered it some more. I'll post the first way I made it as well as the changes I made after it was finished.
1/4 cup plus 2 tablespoons Vanilla Bean Chiller powder mix(from Tastefully Simple)
1/2 cup powdered sugar
2 tablespoons unsalted butter
1 1/2 tablespoons root beer
Sift together Vanilla mix and powdered sugar, set aside. Melt butter over the stove, then transfer to a bowl. Add root beer to butter. Mix in half the sugar mixture, stir with a wooden spoon until smooth. Add in remaining sugar mixture.
Since I found the frosting too sweet for my liking, I melted another tablespoon of butter over the stove. While still in the pan I added a tablespoon of root beer, a pinch of kosher salt (to taste) and a tablespoon (roughly) of whole wheat flour to make a thick rue. I then mixed the rue into the frosting. Then I piped it onto the cupcakes and topped them with the malted milk eggs.