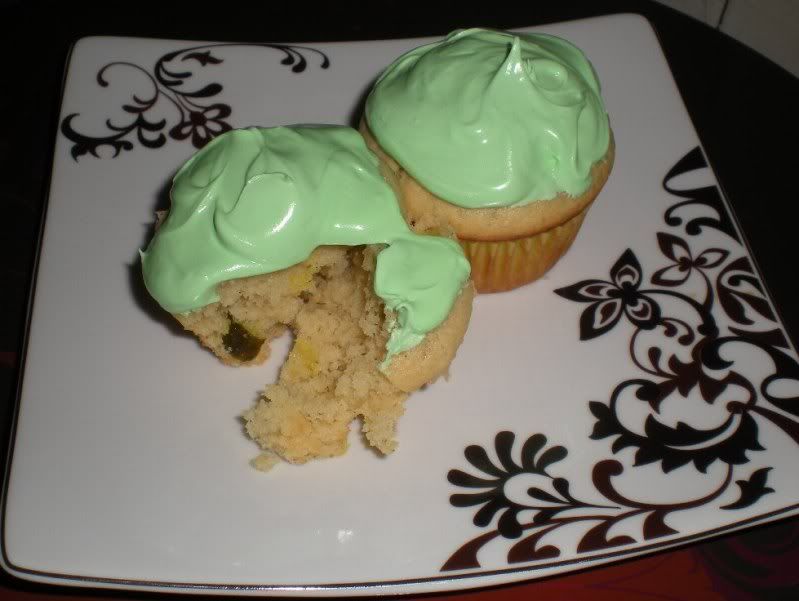 I was cruising the blogs yet again today and ran across one of the most intriguing things I have seen in a long time: Pickle Cupcakes. Yep, you read that right – pickle flavored cupcakes. I even added pickle frosting! Now 95% of you will think that these are the most disgusting things you could possibly fathom but I am here to tell you that I love them! Unfortunately my mom does not - she is of that 95%. Oh well! Can't win em all!!
I discovered
this recipe
on Cupcake Project's website and changed a few ingredients around to use up what I actually have in the pantry. So if you're a member of that 5%, fire up those mixers and get baking!
Pickle Cupcakes
1 cup all purpose flour
3/4 teaspoon baking powder
1/4 teaspoon baking soda
1/2 teaspoon ground dill
1/2 teaspoon salt
1/2 teaspoon dry chopped onion
3 tablespoons tahini paste
3 tablespoons canola oil
1/3 cup sugar
1 egg
1/3 cup greek yogurt
1/3 cup dill pickle juice (straight from the jar)
1/3 cup finely chopped pickles (I used some sweet ginger gerkins but the recipe calls for dill)
Preheat oven to 350 degrees. Whisk together flour, baking soda, baking powder, dill, salt and onion in medium bowl. In another bowl, cream together tahini, oil, sugar, yogurt and egg until well blended. Add in pickle juice and flour mixture, followed by the chopped pickles. Fill muffin liners 2/3 full and bake 20 minutes or until toothpick inserted comes out clean. Makes about 8 cupcakes.

Royal Pickle Icing (makes just enough to frost the cupcakes)
1 cup powdered sugar
2 1/2 teaspoons meringue powder
2 1/2 tablespoons dill pickle juice
Beat on high with hand mixer until the mixture forms stiff peaks. Add a few drops of green food coloring if desired. In the picture the icing is still wet, but it does harden as it dries.